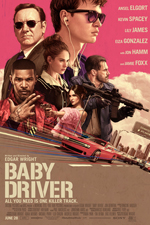 Released: 2017
Starring: Ansel Elgort, Kevin Spacey, Lilly James, Eiza González, Jon Hamm, Jamie Foxx
Director: Edgar Wright
Distributed by: Tristar Pictures
"All you need is one killer track."
Okay. Now, before you say anything: Yes, Kevin Spacey is in this film. Yes, in light of recent revelations it's a bit uncomfortable to hear him refer to someone as "Baby" so many times, even when you know that is the character's name. But should that take away from what is a truly fantastic film with a hard-working cast and crew? I don't know, but I hope not.
From the moment the opening credits begin we are pulled into the atmosphere of this film. There is a distant ringing noise that had Ace (my trusty co-star) fiddling with the audio system a while before we finally caught on. Baby (Ansel Elgort, The Fault in our Stars and Divergent), the titular character, is a young twenty-something who suffers from severe tinnitus after a childhood incident. This ringing noise is his constant companion, and in order to drown it out, he has nurtured a deep obsession with music. He is hardly ever seen without his iconic white buds dangling from his ears, and when he is it's usually because there is an external source of music in the scene. The entire soundtrack of the film places you in Baby's head, even to the point that the music is quieter when he only has one earbud in. While this choice could have come across as gimmicky, to me it was one of the solidifying and immersive layers that really made Baby Driver a film I instantly loved. And, Ace utilized his music superpower to inform me that almost all of the songs Baby listens to throughout the film have been famously sampled in hip-hop—fitting since recording the world around him in order to sample in his own beats is one of Baby's favorite hobbies. It's these subtle touches that are never outright acknowledged in the film that shows me the dedication put in at every level.
The plot itself is rather simple: After trying to boost the wrong car when he was fourteen, Baby has found himself indebted to "Doc" (Kevin Spacey, House of Cards and American Beauty)—an Atlanta crime boss who never uses the same crew twice but has come to see Baby as his good luck charm. Behind the wheel, no one can match Baby. Only a few more jobs and Baby will finally be paid up. Perfect timing since charming waitress, Deborah (Lily James, Cinderella), has just sauntered into his life and seems to be the first good thing that's happened to him in a long time. But Doc isn't going to let go of a good thing so easy, trapping Baby into one last job to end all jobs.
Of course, there are some twists and turns along the way,  but as with many of Edgar Wright's other iconic films (Shaun of the Dead, Scott Pilgrim, The World's End… the list goes on), it's the characters and the cinematography that really makes this experience something special.
Throughout the film, Baby is paired with a rotating cast of accomplices, each zanier than the last. The inseparable couple, Darling (Eiza Gonzalez, Jem and the Holograms) and Buddy (Jon Hamm, Mad Men and Marjorie Prime). An incompetent gunman, J.D. (Lanny Joon). Unhinged psychopath, Batts (Jamie Foxx, Django Unchained). These character archetypes are the ones you expect out of any good action flick, but are delivered so flawlessly and orchestrated so tightly by Wright's talented hand that you savor every scene just waiting to see how spectacularly you know it's all going to crash and burn.
I could go on and on, delving into individual scenes and breaking down the ways Baby's driving becomes a true dance across the city, but at the end of the day, this is a film you need to just sit down with and go along for the ride. Equal parts action, comedy, and charm, there are very few people I wouldn't recommend this movie to.
 Steph:
A solid addition to the Edgar Wright pantheon with one of the best executed soundtracks of the year. A bit of a slow burn, but worth every moment.





Jack Savage:
While this film has a lot going for it—great music, action, star-studded cast, and a good director—I really didn't get drawn into it until more than halfway through. After that, it picked up and suddenly everything had my attention. If you watch it, watch it all. Don't turn it off halfway through.



Trailer: