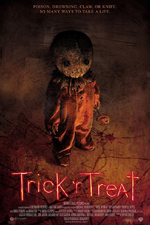 Released: 2007
Starring: Dylan Baker, Samm Todd, Quinn Lord,
Anna Paquin, Brian Cox
Director: Michael Dougherty
Produced by: Legendary Pictures, Bad Hat Harry Productions
"If you don't follow the rules tonight, you won't live to see tomorrow."
On Halloween, whatever you do, don't put out your jack-o'-lantern, always wear a costume and hand out candy to trick or treaters. Follow the rules for the night and you can enjoy a fun and happy holiday. If you want to see what happens when you don't follow the rules, watch the cult classic Trick 'r Treat.
Set in a small town famous for it's Halloween celebration each year, Trick 'r Treat takes you through a few different tales of people's Halloween night. The film begins with a nice couple coming home after a night out in costumes. The husband enjoys the holiday, but the wife is not too thrilled about it, wanting to end it early. However, blowing out a jack-o'-lantern and taking down her decorations before the night is over may have some undesired effects.
We are then introduced to a young ragamuffin, Charlie (Brett Kelly), who is stealing candy and knocking over pumpkins, until he is caught by his school principal Steven Wilkins (Dylan Baker). Wilkins is a strong follower of the holiday and educates the young man on Halloween traditions. However, all may not be as it seems with the principal and his lessons may take a deadly turn.
Another tale begins with a group of young kids as they make their way to a location apparently haunted by a tragedy that occurred on Halloween in years past. When the group plays a prank on their schoolmate Rhonda (Samm Todd), they quickly realize that it may not have been a good idea to visit this particular location on this particular night. Their only hope may be the very same young girl that their prank targeted.
Throughout the night, we have been introduced to a group of teenage girls on the prowl for dates to a Halloween party. The youngest member is Laurie (Anna Paquin) who is having a difficult time finding a date. Dressed as Little Red Riding Hood, she travels to the party in the middle of the woods. When she is stalked by a masked man who has already killed earlier in the film. Will she make it to the safety of her party or will there be another victim of this Halloween night?
Finally, we meet Mr. Kreeg (Brian Cox), a grouchy old hermit who can't be bothered by Halloween or trick or treaters. He spends the night scaring children away from his door, stealing their candy. However, he gets a visit from Sam (Quinn Lord), a young trick or treater who is more than he seems. Things quickly go bad for Mr. Kreeg as he battles for his life against this small intruder.
The style and wrapping of this movie are phenomenal. I tell people every year that this is the film they should watch before heading to bed on Halloween. The stories that all occur on this one night in this one town are both entertaining and chilling. They encompass a variety of horror genres from ghost stories to slasher films. Characters from each story run into each other and this helps guide you smoothly through the film. It also reinforces the idea of this being a small town.
The actors in the film do a great job with their performances. You can see that they had a lot of fun making this movie and really got into the roles. Dylan Baker as Steven Wilkins and Samm Todd as Rhonda are the breakout characters of Trick 'r Treat. You really feel connected to them as their stories develop and enjoy their time on the screen. Brian Cox's role has very few lines, but he is able to keep your attention the entire time he is on screen.
Special mention has to go to the burlap mask, red, footed pajama wearing trick or treater Sam – named after Samhain, a traditional Celtic festival marking the end of summer. He is to Halloween what Santa is to Christmas. Constantly witness to all the events happening in the film on Halloween night. His own story revealing some secrets and putting a solid ending to the film. The idea of something as "innocent" as a masked child on Halloween makes him both endearing and scary as the movie progresses and he keeps showing up.
Trick 'r Treat doesn't deliver the hardcore gore and scares a lot of modern horror films do. Because of this, it is accessible to people who may not be able to handle the more intense aspects of horror. However, it can still be enjoyed by all levels of fans of the genre and for this reason, it has become a very popular film. Its popularity is even more impressive when you realize it did not get a theatrical release and is a straight to DVD movie.
It is very hard to come up with substantial negatives for this movie. There are a few missteps with camera perspective and other small incidents. A scene that comes to mind involves Mr. Kreeg and a size changing Sam who suddenly becomes adult height due to an actor switch. But even with any small slips, you never stop wanting to watch this film. So for that reason, you need to pop this movie it into your player, sit back, enjoy, and save me some popcorn!
Jack Savage:
I never get bored watching Trick 'r Treat. The story and character development are great, giving you what you need for a full tale and no more. I think Sam is a new horror icon on par with Michael Meyers and Jason Voorhees. It has become one of the top films I recommend to my friends (ask the other critics how much I recommend this movie).




Trailer: