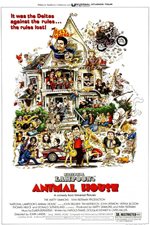 Released: 1978
Starring: John Belushi, Tim Matheson, Tom Hulce, Stephen Furst, Karen Allen, Donald Sutherland.
Director: John Landis
Distributed by: Universal
"Relive the best 7 years of your college education!"
If your style of comedy involves elements like boys shouting, implausible events, boys doing really stupid things, casual sexism, and gratuitous female nudity, then National Lampoon's Animal House is the film for you. If you are forced to watch this movie, you might be wise to heed the most helpful line in the movie: "My advice to you is to start drinking heavily." It just might be the only way you make it through this nauseating train wreck.
The setting is Faber College in 1962, when the film opens with two freshman Larry (Tom Hulce), and Kent (Stephen Furst) seeking the fraternity to which they wish to belong. Unfortunately, their first choice wants nothing to do with them and this causes them to end up at the infamous Delta House, a disgusting, filthy, grimace-inducing house into which no truly sane person would set foot! After a scene in which two frat boys talk about 'porking' one of many girls before whipping out an obscene dildo and slapping it onto a table, the flimsy, barely-there plot that gets almost completely lost among the endless depravity finally arrives. The Dean is determined to revoke Delta House's charter and puts them on Double Secret Probation. "Whatever that means."
Soon enough, our new pledges are inducted into their respective fraternities in contrasting odd and sick and twisted ways. Once the freshmen become frat brothers, Animal House starts to truly become just that: animalistic. Throughout the remainder of the movie, be prepared to see some incredibly implausible and outrageous, even offensive, stuff. Not that comedic films do not carry a sense of outrageous events, but this movie takes that to an entirely different level and not in a good way.
In a similar maneuver to the film Wedding Crashers when they start to crash funerals in order to get laid, one sequence of scenes features the main frat boys heading to an all-girls campus with one of the boys using the ruse of being the boyfriend of a girl who recently died, his obvious ulterior motive being to attract sympathy and, as the phrase goes, score. It's completely believable that this would work because what girl doesn't just strip down and is totally cool with sex in the backseat of a car with a boy she just met thirty minutes ago? By the end of this sequence, in typical fashion of cowardly and terrified frat boys, when a dangerous situation arises for which they are mostly responsible, these boys leave their dates in said dangerous situation. Don't worry, though, these girls are miraculously unharmed, arrive back home somehow, and are absolutely okay with being treated like that by these frat boys.
It just gets better from there.
Animal House features not one but two scenes in which a girl is giving her boyfriend a handjob and he's not even paying attention to this because he is distracted by other concerns – namely the goings on at Delta House by its members when he should be concerned about his own member and the attention his girlfriend is giving it. This is likely the most accurate moment in the movie, but then it shifts right into complete inaccuracy with the girl acting like everything is okay with this situation. Had the genders been reversed in this scene, the girl would be vilified for daring to be distracted during sex. However, this behavior is completely acceptable when done by a boy. Casual sexism for the win.
Ultimately, a movie about fraternity culture wouldn't be complete without the obligatory toga frat party scene. This is the part of the movie to refill your drink, go grab an extra snack, use the restroom, floss that stubborn popcorn kernel out of your teeth, or literally do anything other than watch this movie. If you zone out during any part of this film, it's okay, you're really not missing much.
The only two highlights of Animal House is a sensational red and black flannel blazer and red pilled necktie combination during one scene, and a quiet moment in the home of Professor Jennings (Donald Sutherland) which finds its bliss when the professor suddenly asks his visiting students, "Want to smoke some pot?" The question leads to the high musings of how small and insignificant humanity might be, which could be a metaphor for how small and insignificant this film might be.
But these two brief delightful moments get nearly completely lost and certainly quickly forgotten among the deluge of scenes and nonsense thrown at you that overshadow even the thin plot of Animal House. Throughout the movie, you may find yourself truly wondering, "What am I watching?" or "Why am I still watching this?" The answer is that you're desperately clinging to the hope that this movie will get better in the next scene. Don't be disappointed when it never happens. You'll be swarmed with a maelstrom of implausibility that doesn't even feel like the scenes relate to each other anymore! These scenes chosen from a hat include things like a gratuitous topless sexy pillow fights that only happen in boys' fantasies or in films like this where a totally visible peeping tom on a ladder right in the window goes unnoticed, and another gratuitous scene in which a girl stands in front of her window, strips, and touches herself with the same peeping tom practically smearing his greasy face on her window yet amazingly still being unnoticed by her. Throw in a few "mine's bigger" dick jokes in the middle of the produce aisle scenes and rape jokes and that just about sums up Animal House. This is not even reality; it's an obnoxious perpetually fourteen-year-old boy's wet dream.
Animal House is the kind of movie that features the asinine, crude, gross humor that only the unintelligent enjoy. It's not witty. It's not clever. It's just plain stupid.
Seda Faran:
Don't even bother wasting your time. I wish I hadn't.

Jack Savage:
A product of its day, Animal House is a frenzied comedy satirizing common man fraternity life at an ivy league college. Moments depicted in the film are memorable as well as hilarious (who else really wanted to smash that guy's guitar?). A great comedy for those of us who want to sit back and watch the stuffed shirt types get dragged through the mud. Pop in this movie whenever you need a good laugh or want to reflect on the things you may never have done in college (I never did get invited to a toga party).




Trailer: