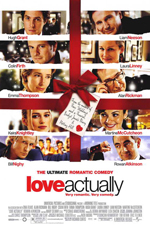 Released: 2003
Starring: Hugh Grant, Liam Neeson, Colin Firth, Laura Linney, Emma Thompson, Alan Rickman, Keira Knightley, Martine McCutcheon, Bill Nighy, Rowan Atkinson
Director: Richard Curtis
Distributed by: Universal Pictures
"It's All About Love… Actually."
You might think that with a film called Love Actually, romantic couples would be what you're going to get for the next two hours. You get so much more than that with Love Actually, a rare gem of a movie that not only portrays the many non-romantic definitions of love but does it well. How can a narrative accomplish this? By having multiple, interwoven storylines. Since Love Actually's release, there have been many films produced that have tried to duplicate the idea of telling numerous stories in one overall theme but have failed to do it as successfully as this film. Love Actually, to paraphrase one of the characters, is chockablock full of Britain's finest actors and actresses to make a truly ensemble cast for a movie that explores the beginning, middle, and end of love along with all of the triumphs, joys, disappointments, and losses that love can bring.
The events of the movie take place over the course of five weeks leading up to Christmas Eve when the characters' story threads weave together culminating in possibly the strangest Nativity Play ever performed by schoolkids.
Love Actually focuses primarily on eight relationships, beginning right away with the aging ex-heroin addict rockstar, Billy Mack (Bill Nighy) and his manager, Joe (Gregor Fisher). Billy is unapologetically direct and crass about himself and his career throughout the entirety of the movie even as he embarks on his search for a comeback with his new single "Christmas is All Around," a holiday parody of The Troggs's song "Love is All Around," which plays on the radio in the background of the rest of the film's action in an accurate depiction of radio stations playing the same twelve Christmas songs ad nauseam during the Holidays. Billy's manager, Joe, pushes the musician's career and publicity unconditionally no matter how many insults Billy throws his way or how many faux pas Billy commits on live broadcasts.
The other main seven relationships involve those between The British Prime Minister and staff member Natalie, novelist Jamie and his housekeeper Aurelia, film body doubles Judy and John, co-workers Sarah and Karl, recently widowed Daniel and his stepson, Sam, married Karen and Harry, and art gallery worker Mark and Juliet.
Hugh Grant plays the new British Prime Minister who quickly takes romantic notice of his nervous staff member, Natalie (Martine McCutcheon), as soon as they meet. They both go through the awkwardness of crushing on each other, the stilted conversations of getting to know one another, and the inconvenience of having feelings for their employer or employee. They both have a sweet chemistry that is endearing to both the audience and to each other's characters.
Similarly, Jamie (Colin Firth) and housekeeper Aurelia (Lúcia Moniz) have to wrestle with being in an employer-employee situation. That's not their only hurdle, though. Their conversations are much more difficult due to an English-Portuguese language barrier between them. Their scenes are particularly lovely to watch when you see they are having conversations without necessarily knowing that they are talking to each other. Their storyline demonstrates that there are other languages than verbal. The scene in which they finally manage to have their first tentative spoken conversation and connection is truly a beautiful scene to watch.
As they come together while working as body doubles for a movie, Judy (Joanna Page) and John (Martin Freeman) spend the majority of Love Actually naked for their profession. What makes their scenes together interesting is the contrast between their professional and personal lives. While they film their nude intimate scenes together, they chat about perfectly normal topics ranging from traffic to their opinions on the new Prime Minister. In their work, they are physically bare and confident, but outside of their jobs, they are shy and awkward with each other. This storyline is the weakest storyline of the film, very gratuitous in nature, and could have been removed from the film without removing anything significant from the movie other than female nudity.
In an office romance situation and with some helpful shoves from her boss, Sarah (Laura Linney) finally tries to make a move on her coworker, Karl (Rodrigo Santoro). Her feelings for him are the worst kept secret in the office. When they get together at last, it's incredibly satisfying for the audience – until "of course, [her] mobile goes [off]," making viewers frustrated with her for choosing her phone over this gorgeous man she's been in love with since she started her job! However, her reasons become clear several scenes later, and with that reveal comes viewers' understanding. This storyline is one of the most bittersweet in the film.
Love Actually starts to truly shine in the storyline of Daniel (Liam Neeson) and his young stepson, Sam (Thomas Brodie-Sangster). Their story begins with grief as Daniel loses his wife and Sam loses his mother. Their relationship is loving but distant because she had been the liaison bridging the two of them together. Without her, Daniel struggles to connect with Sam. What finally gets them to bond is a heart to heart chat about love wherein Sam announces very decisively, "I'm in love." From that conversation onwards, they set out on a much closer and supportive relationship. Even while grieving the loss of his wife, Daniel puts his stepson's needs before his own and demonstrates the kind of non-judgmental parenting skills that every child wishes they had at Sam's age, particularly in which Daniel treats Sam's concerns seriously and talks to him like an adult instead of like a child. This storyline features the healthiest relationship in the entire movie.
But not every relationship can be healthy, as viewers see with Harry and Karen's marriage. Love Actually doesn't only show you the happy and passionate loves, but makes a point to show you that sometimes passion cools into a comfortable and repetitive affection. Their relationship shows that love is still present in their marriage but that it isn't as exciting as some of the other romantic couples in the film. Harry (Alan Rickman) is the classic fool husband who strays from his wife, Karen (Emma Thompson), and gives into the temptation of the younger and sexier seductress. When Karen finds out, she is heartbroken and humiliated. Thompson's performance in a scene underscored by Joni Mitchell's "Both Sides Now" perfectly showcases her incredible acting talents as she gives audiences the solo scene of Karen struggling to cling to her dignity while her heart breaks.
Love Actually's final main relationship follows the painful unrequited relationship between Mark and Juliet. Anyone who's experienced a love unreturned will appreciate the way that situation is handled in Love Actually. In the famous scene where Mark confesses his feelings for Juliet "without hope or agenda," the pain, respect for her feelings, and genuine emotions of someone in his situation come through clearly. Their scenes capture the simultaneous awkwardness of being on both sides of an unrequited love.
While these storylines of Love Actually seem unconnected with each other, those connections come through the various secondary relationships weaving everything together and creating a multidimensional kaleidoscope of what a loving relationship actually means. The main relationships are overwhelmingly romantic in nature, but these secondary relationships are presented in Love Actually as equally important and valuable to romance. They have a wonderful range from newlyweds, to best friends, to first loves, to brothers and sisters, and to bosses and employees. All of these relationships enhance those of the main plotlines and characters, while also standing on their own and in their own right. There is no hierarchy of love in Love Actually and that is what makes this movie unique, and what subsequent films have failed to truly understand.
Throughout Love Actually scenes mirror each other to show how different or similar choices in love result in different or similar outcomes. Two men are tempted to abuse the imbalance of power in an employer-employee relationship and make different choices. Two characters experience the betrayal of a cheating partner and make different choices. Two characters face the situation of deciding between their family and a romantic partner and make different choices. Two characters choose international romantic relationships. Two characters fall in love with someone of another ethnicity. All of these choices are decided by love and in only one of these situations does someone choose poorly.
Love Actually has everything you expect in a movie marketed as a romantic comedy. The grand gestures of love are present. The confessions of love are present. The first kisses are present. The uplifting mood is present. Love Actually isn't just a feel-good romance movie. It's filled with many thought-provoking themes to digest about what it actually means to love. Love sometimes demands you make sacrifices. The love of your life may surprise even you and be someone you don't expect. Most poignantly, Love Actually emphasizes the importance of telling those you love that you love them because you will regret it if you don't.
If you're finding movies that shove romantic love at you with the same character archetypes and tropes boring and stale, give Love Actually a watch. It's not just about romance. The scenes in which the relationships do not contain romance are the most emotional and moving. Liam Neeson and Emma Thompson's scenes together as best friends are particularly wonderful as viewers finally get to see a loving platonic relationship filled with support, gentle humor, an easy comfort with one another, and their common difficulties in connecting with their kids. Seeing Laura Linney and Michael Fitzgerald's scenes together are quiet but show a love between family that is often ignored in film. Alan Rickman's scenes with Laura Linney show a playful and encouraging, yet still professional relationship between a boss and his employee. It is absolutely refreshing to see Abdul Salis playing Kris Marshall's best friend who pulls no punches argues that, "[Your plan] is complete crap!" when the latter announces his plan to go to America to find love. The most delightful performance is given by Rowan Atkinson, a master of comedy but his scenes delve into a much deeper meaning and intention. His quirky character serves as the anonymous guardian angel in the form of a loving and kind stranger. His infamous gift wrapping scene, while comedic, is so much more than that. His shenanigans at the airport scene, while comedic, is so much more than just for laughs.
Love Actually is a movie jam-packed with a large ensemble of Britain's best actors and actresses. Chances are extremely high that when that many excellent performers are in the same movie, it will be a good film. This is true for Love Actually, a film that portrays all kinds of love on an equal level of importance, and highlights all of its triumphs, joys, disappointments, and losses in all manner of ways. Love isn't just about romance like so many movies want viewers to believe. The truth is, "Love Actually is all around."
Seda Faran:
A smart and solid script, a fresh commentary on the many varieties of love and relationships that are often ignored in media, and with an ensemble of Britain's best, this movie will make even the most jaded believe in the uplifting power of love again. I recommend this movie to everyone!





Steph:
An interesting twist on your classic Christmas movie with a star-studded cast. At times it can be a lot to juggle and parts of storylines can get lost in the midst of everything, but it really does capture the way even small decisions can ripple through many lives. While it has a large ensemble, each character remains distinct, featuring some iconic scenes.




Trailer: